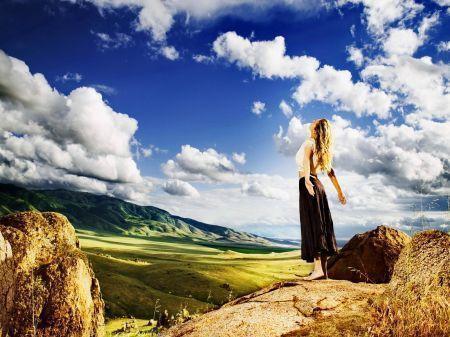 Sit in a straight chair, keep spine erect. Hands on thighs, palms facing down. Feet with heels together, toes slightly apart. Relax your shoulders and leave no tension in the neck.
Get yourself in a rhythm, gently swinging the neck back and forward
Now for the Breath. as the head swings back, breath in through the nostrils
As the head swings forward and downward exhale vigorously through the mouth. Keep your arms and back straight.
Following the motion of a pendulum, repeat the back and forth motion breathing in and out for 7 breaths.
Stand or sit erect with your spine aligned.
Breath in strong through your nostrils keeping your heart and your chest elevated until the lungs are full.
Holding the breath in, slowly raise rigid arms until your hands touch above your head. Keep your feet flat on the ground and stretch your body long.
Slowly, gently lower your arms matching the rhythm as you exhale through the mouth.
Stand erect with your spine align and your feet firmly on the ground.
Breath in strong through your nostrils keeping your heart and your chest elevated until the lungs are full.
Keep a gently rigidity in the body from the feet up and holding the breath in, swing the arms and hands in a full circle three times.
At the 3rd swing, drop the arms to your sides and exhale vigorously through the mouth, keeping the chest elevated. Continue to breath rhythmically and relax.
Breath is Life. It is the fount of all human power. Our respiratory systems are miraculous and intricate, purifying the body from the inside out. Unfortunately many of us don't take time to practice proper breathing. What results is lower energy levels, feeling fatigued, foggy headedness, and an overall lower quality of life.
Strong breathers lead better lives. Proper breathing helps to alleviate stress, improves energy, and leaves you feeling clear headed and ready to conquer. Breathing is also how you exercise and tend to the internal organs. Taking a little time throughout the day to breath properly, and even just being mindful of your breathing can make a significant positive impact on your life. But for a really powerful boost to leave you feeling like a super human, here's three nifty breathing techniques practiced & mastered by yogis and enlightened folk since antiquity. These are breathing techniques to promote abounding health and vigor, rejuvenation, a clear complexion, and an overall new buoyancy in the body.